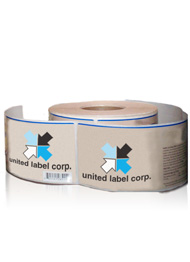 Whether you're printing on a soap dispenser, a vitamin container or pet food bag, United Label Corporations makes pressure sensitive custom labels that will work for you. We  customize for your labeling needs with design services and custom label shapes so that your product stands out and meet labeling requirements.
United Label primarily uses high-speed flexographic presses for  our custom labels, which allow United Label to print up to six colors, including four color process color (full color). We can laminate labels, varnish labels and die cut labels in line. Our high-speed flexographic presses offer an economical alternative to sheet fed presses.
United Label offers labels of any special shape or color including  a die library or shapes which don't require a custom made die.
We have the expertise to help you design the best label for your product to both meet legal requirements as well as catch the eye of buyers.
Some of the different types of custom labels we make include:
Some of the other terms for our custom labels include company labels, white labels, information labels and manufacturing labels.