Cosmetic labels need to emphasize the key component in their products: beauty.
From lip balm to oils to shampoos, our label printing can cover all of your beauty products- literally. We've designed and printed labels for numerous cosmetic items and yours can be next. From classy, elegant labels to fun and colorful ones, we create your label all depending on your preference. Our labels can be viewed in America and overseas in one of the most fashionable countries in the world, Italy.
Cosmetic Label Requirements
The Food and Drug Administration (FDA) regulates cosmetic labeling under the authority of both the Federal Food, Drug, and Cosmetic Act (FD&C Act) and the Fair Packaging and Labeling Act (FPLA).
Cosmetic labeling must be truthful and not misleading. Products intended to affect the structure or function of the body, or for a therapeutic purpose, such as treating or preventing disease, are subject to regulation as drugs.*
United Label Can Help You Design Your Cosmetic Label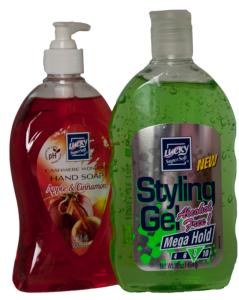 If you would also like us to contribute to the design process, we can do so extremely effectively as our staff has worked in both the cosmetic labeling and packaging industries. More about how we can help you with design.
We'll be there with you from start to finish to guarantee packaging that will define your product spectacularly.
* Source and more details at https://www.fda.gov/cosmetics/labeling/.