Prime labels for point of purchase, promotional and product information
Prime labels are the principal source of brand identity and decoration. These labels are used products and are responsible for shelf appeal. Branding and visual marketing design are also affected by price labels.
Prime labels have many purposes. On such purpose is to reinforce the product's brand. A second purpose is to attract the attention of the consumer. Third and perhaps most important, a prime label must entice consumers to buy the product.
An Important Role in Marketing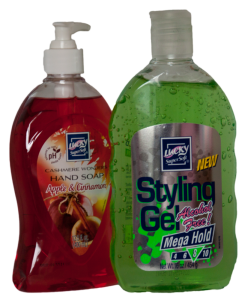 Prime labels are usually richly detailed because of the importance of their role in product marketing. These labels feature superior design quality. They are printed in full color on quality label stock. Prime labels require high resolution color label printing. Hence, label stock and graphic design quality are vital to the production of prime labels.
Prime labels are featured on a wide range of products. Some of these products include gourmet food jars and coffee bean containers.
Cosmetic bottles and motor oil also make use of prime labels. United Label's prime labels make products stand out from the rest. This is due to their stunning color and printing effects. We make prime labels for food, cosmetic, pharmaceutical, and consumer products. Our facility offers options that ensure our labels function well with a variety of packaging.
United Label can assist in selecting a material and adhesive for you. We make sure it will function with your product and its environment. While at the same time, expanding your products' shelf appeal. For more about label materials, please visit our Label Type page.
Secondly Labels
Secondary labels are also used on packaging and provide practical information. These labels are typically featured on the back of products. They feature such information as:
product details
barcodes
directions
sizing information
care instructions
nutritional information
part numbers
patient information
shipping addresses
These labels sometimes feature graphic elements. However, these elements are usually minimized due to their function. As a result, the content is printed in black and white.
We've designed and printed labels for numerous cosmetic items. Yours could be next. We create your label all depending on your preference. Our labels are be viewed in America. In addition, they can be seen throughout the  in the world. We have an exceptionally strong presence in Italy.
Also, we can also help design your label. If you want us to contribute to the design process, we will do so. Our extremely effective staff has worked in both the cosmetic labeling and packaging industries. We'll be there with you from start to finish. As a result, we guarantee your final packaging will define your product spectacularly.