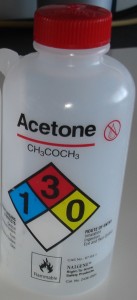 Looking for a Chemical Label Manufacturer to print your labels? Are you storing any quantity of chemicals for your business? Or perhaps chemicals are your business. If this is the case, then you'll want to use our chemical labels for labels that will withhold under any condition. Our chemical labels are strong. If there is any spillage of your chemicals from their containers, our labels will hold up.
Chemical Label Manufacturer: Prints Chemical Labels For Any Purpose
Whether they are specific caution labels, "Flammable" labels, or labels that just indicate what the substance is, our labels will be definitive in their message. With a great shine and a great stick, our labels will last as long as the chemicals do. No one will ever forget what is what. Choose United Label for your Chemical Label needs. Your chemicals, employees, customers, and you will be safe.
United Label Corp will print your chemical labels. We service all your labeling needs and will meet all guidelines and standards. Our facility is built to print commercial chemical labels in bulk for any situation of product. We produce custom chemical labels that make your products shine. Our Custom Chemical Labels meet all GHS (Globally Harmonized System) Standards. GHS is an international, standardized set of criteria for labeling chemical containers, drums, and barrels. The purpose of GHS is to communicate hazard information. In addition, GHS issues safety precautions to ensure proper handling. They also warn against the use of dangerous chemicals. United Label Corp have the quantity and drum label size that you need . We meet GHS standards and other standards in safety and health.