Durable Foil Film Label
A Film label is flexible and untearable. Laminated foil film labels provide a very clean face for your product with a mild shine. These labels are quick to produce. In additional, these foil film labels are customizable in any way imaginable.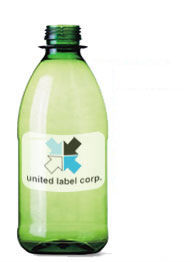 Also, a laminated foil film label is durable. They provide your product with some bonus shelf life. You will not need it with this rejuvenating label. This technique requires a layer that is laminated on top of a foil label. As a result, laminated foil film label are extremely sturdy and prominent labels.
One example of this is Arizona's use on their plastic bottles. The laminated foil film labels are bound in one place. The rest is composed of a solid sheet for a purely branding visual display. Laminated film foil labels are effective and dependable. We recommend laminated film foil labels for a clean label that can have anything printed on it.
United Label produces our high quality foil embossed labels using the best methods of printing. We transfer metallic foil to the surface of your labels. Foil embossing creates the a sense of depth. Also, it adds distinction to seals and other types of labels. You may choose from a wide range of colors for both foil and ink . Our foil labels are also available in a wide range of sizes, in either rolls or sheets.
United Label Corporation is a the trusted online vendor for foil and embossed labels. We offer fast and reliable custom foil embossed labels. We specialize in the foil embossing of labels.