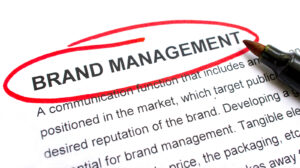 We talk a lot about branding and how important it is to your business, and it all starts, at the core, with a "brand identity." A brand identity is the personality of your company and the promises you make to your customers. It's what you want your customers to walk away from when they interact with your brand. Your brand identity includes your values, how you communicate about your products and services, and how you want people to feel when they interact with your products or services.
Managing Your Brand Identity
The term "brand" refers to a business or marketing concept that helps people identify a specific company, product or individual. And as we discuss throughout this series, the concept of a brand goes beyond merely a company or product logo, but involves things as amorphous as "core values," as well as elements that are seemingly-unrelated, such as your interactions with customers and suppliers.
Indeed, brand management involves managing the material elements of your brand such as style guides, packaging and color palettes, as well as the intangible elements of how your brand is perceived by your target audience or customers base. (Think we're kidding? As an example, think of the last few times you called a company for help: when was the service and experience excellent, and when was it poor? That's branding, right there, because in your mind, you've associated one company with positivity, and the other with negativity.)
It is important to remember that your brand represents who you are: you are a brand, your employees are a brand, and your marketing materials are branded. Your complete brand experience is the visual elements, from the logo to answering your phone, that tell your customers what kind of business you are. In a survey from Zendesk, 87% of consumers said that consistent branding is important both online and on traditional platforms. And the truth is, good branding is something many of us expect — even if we don't realize it — when we look at companies and industries; and when it is missing, it is a red flag.
The Emotional Impact of Brands
You don't want your customers just to recognize and use your brand, you want to create something they will continue to return to. Determine the market space occupied by the product or service your company offers by exploring emotional and rational needs and concerns of your customers. Your brand character promotes your business by connecting with your customer base on an emotional, gut level, which distinguishes you from the market. Brands like Gatorade and Nike appeal to their customer's aspirations, while many insurance brands appeal to their customer's need for security.
A good brand connects people on an emotional level, and when they feel good, they shop with it. With good branding, you give your brand a human side that your customers can connect with more than just one company or entity. There are many ways you can address the emotions of people with branding to make them feel connected to your business. Remember, purchasing is an emotional experience.
Final Thoughts
Brand management gives meaning to a particular organization, company, product or service by creating a brand in the minds of consumers and shaping it. There are innumerable brands in existence, but the four most common are personal brand brands, corporate brands, product brands and service brands. Brands are intangible goods, which is why we associate things like products and names with them–but even you, the reader, has a personal brand (think of what you post on social media, or how you interact with clients).
There's a lot to think about when it comes to brand management, not the least of which is the label you put on your product. And when it comes to that, you should contact United Label at 973.589.6500 or online here to get started.