What Are Pressure Sensitive Labels?
Pressure Sensitive Labels (PSL) are self-adhesive stickers compatible with many types of surfaces. They do not require heat, water, or solvent to attach; simply remove the label from it's silicone release liner and  apply it with pressure to the surface you are sticking the label on. The stickers come on rolls and are peeled off and pressed onto a product by hand or using a machine.
Where can Pressure Sensitive Labels be found?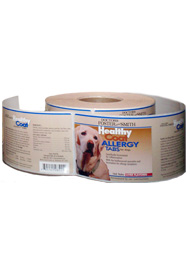 Pressure Sensitive Labels can be found on consumer products all around us. Whether it's around your bottle of shampoo or the vitamins you take in the morning or vegetables you used to make your dinner. They are probably wrapped around your container of garden fertilizer and covering the bottle of wine you gave to a friend. Pressure sensitive labels are around everything we use every day. They promote products and brands that are a part of our daily life.
What makes the Pressure Sensitive Labels stick?
Liner – the part of the label thrown away after application, the backing layer made with a silicone release liner that allows the label to be removed for use.
Release Coat – the non-stick coating left on the liner after the label  is removed. Allows the sticker to be applied to another surface.
Adhesive – the glue that holds your label onto the product it is being stuck to. Different stickers have different adhesives depending on the surfaces they are being applied to.
Face Stock –The material and finish the label is made of. The label is actually printed on the face stock. It can be many things such as paper, film or foil.
Top Coat – a laminated or varnished layer on the outside of your label to protect the sticker and make provide the desired finish. For example, glossy, matte or satin.
Each label is specifically designed to display products in the most creative and unique way. Let us create our labels for you to apply to your products within your company. United Label Corporation will design unique stickers best fit for different products, therefore enhancing your products appearance and increasing your  labelling machine output thus generating more business while increasing productivity. We can increase your products appeal and your output with our pressure sensitive labels, increasing not only customer satisfaction but also your business.
At United Label, we have had a lot of experience designing pressure sensitive labels. Contact us and we will  increase your product's exposure as well as your productivity.
Have a question about these new labels? Contact us today for a free estimate at (973) 589-6500.