A label (as distinct from  a sign) is affixed to a container or product, on which is  information or symbols about the product or item. Labels have been developed over time with increased technology to withstand more environments, products, and textures and to supply more pertinent information.
Timeline
1880's 
European artists introduced labels stuck onto products with different types of gum. Initially, they were placed on crates to showcase fruits, vegetables, cans, and boxes of cigars. As a result, these labels are now considered antique and can be bought as collectibles.
1906 – Food and Drugs Act
The Food and Drugs Act is passed by Congress on June 30, 1906 and signed by Theodore Roosevelt. The Food and Drugs Act prohibited interstate commerce in misbranded and adulterated foods, drinks and drugs.
The Meat Inspection Act was passed the same day. Disclosures of insanitary conditions in meatpacking plants (exposed by Sinclair Lewis' classic muckraking book, The Jungle), the use of poisonous preservatives and dyes in foods, and cure-all claims for worthless and dangerous patent medicines lead to the enactment of these laws.* Lewis, a socialist, famously quipped 'I Aimed For The Public's Heart, And. . .hit It In The Stomach'.
1930's – The Self-adhesive Label  
R. Stanton Avery manufactured the first self-adhesive label. The labels were paper with a sticky adhesive that was peeled and stuck onto the surface. Additionally, they had a silicone coating to protect the stickers from wear and tear. Ultimately, he made adhesive labels into an industry, still being used and manufactured today.
1965
United Label Corporation was founded  in downtown Newark, New Jersey by four men with dozens of years of combined experience in the custom label business.  Read more about United Label's History.
1966 – Fair Packaging and Labeling Act
requires all consumer products in interstate commerce to be honestly and informatively labeled, with FDA enforcing provisions on foods, drugs, cosmetics, and medical devices.*
1970's – Barcodes
Barcodes became commercially successful when they were used to automate supermarket checkout systems. Their use has spread to many other tasks that are generically referred to as automatic identification and data capture (AIDC). The very first scanning of the now ubiquitous Universal Product Code (UPC) barcode was on a pack of Wrigley Company chewing gum in June 1974
1980's 
The inkjet printer was invented, which allowed people to design and print their own self-adhesive labels.
1990-Nutrition Labeling and Education Act
requires all packaged foods to bear nutrition labeling and all health claims for foods to be consistent with terms defined by the Secretary of Health and Human Services. The law preempts state requirements about food standards, nutrition labeling, and health claims and, for the first time, authorizes some health claims for foods. The food ingredient panel, serving sizes, and terms such as "low fat" and "light" are standardized.*
1999 – Drug Facts
Law  says that Over-the-counter drug labels must contain data in a standardized format designed to provide easy-to-find information, analogous to the nutrition facts label for foods.*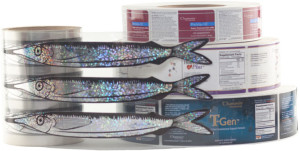 Present
The use of label manufacturing for companies and extensive products still lies in the hands of label-making companies, as they must be made in bulk. The complexity and ever changing world of labeling regulation require up to date expertise.
While technology has evolved and made label making easier for many, there is still a need for businesses with label machines as not every label in the world can be made from your printer at home. At United Label, we have had a lot of experience with advancing technology and the ability to create labels. Contact us and we will give you the business you need to manufacture more labels.
Have a question about label manufacturing? Contact us today for a free estimate at (973) 589-6500.
*Source https://www.fda.gov/aboutfda/whatwedo/history/milestones/ucm128305.htm