Have you ever seen a label or sticker that caught your eye because of its unique shape? We're talking about the labels that make you pick up a product even if you weren't originally interested. Those labels were likely made using a process called die-cutting.
Die-cutting is a fascinating technique that allows for the creation of custom shapes and designs on labels and other materials. It's a popular method that businesses and manufacturers use to make their products stand out on store shelves.
But how exactly does die-cutting work, and why is it so effective at producing eye-catching labels? Let's dive in and explore this exciting process. (And for a shortcut, click to download our pdf to see our most complete list of dies for label shapes.)
What Is Die-Cutting?
Die-cutting is a manufacturing process used to cut various materials into specific shapes using a specialized machine known as a die. A die is a sharp tool with a cutting edge made from steel or another hard material to cut a label into the desired shape. This cutting edge can be shaped into any design, from simple shapes to intricate patterns.
The die is made up of sharp blades that cut various shapes and designs from materials such as paper, plastic, cardboard, foam, vinyl, and plastic. The material must be strong enough to withstand the pressure of the die during cutting.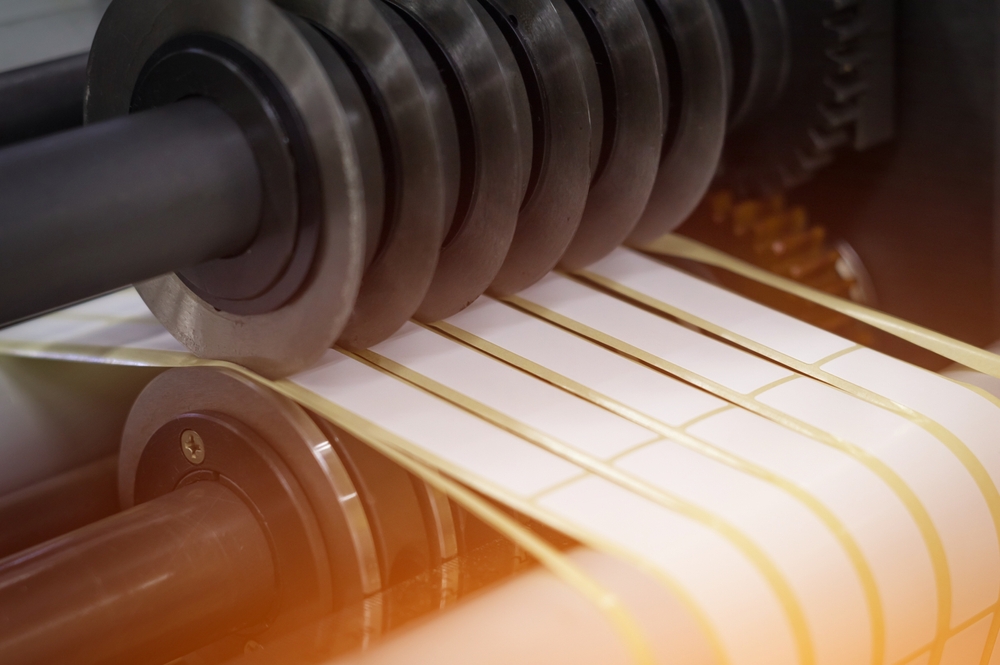 How Does Die-Cutting Work?
The die-cutting machine presses the die against the material, causing it to cut through by applying pressure. When pressure is applied to the material, the die cuts it out and removes pieces that won't be part of the final design. As the process continues, intricate shapes are created with precision and accuracy.
The die's shape and design determine the shape and design of the finished product. As a result, every sticker or label cut out from the machine has the same shape, size, and design.
Die-cutting is highly popular due to its versatility. You can cut almost any complex shape from any material that can withstand pressure. It's also a cost-effective method for producing large parts in one run instead of cutting out each piece individually.
How Is Die-Cutting Used for Custom Labels?
Custom labels are created using a die-cutting machine after the labels have been printed. This process includes printing the designs onto the label material, which is then loaded into the die-cutting machine. The machine applies the die to the label material, which cuts it into the desired shape.
Using die-cutting, you can create labels in any shape you want, from circles to irregular shapes, with precise edges and corners. You can easily cut out shapes like circles, stars, piggybacks, and hearts, or even cut around an image or text to create a unique label. You can use die-cutting to create labels for food and beverages, pet products, personal care products, nutraceuticals, chemicals, window decals, and more.
Benefits of Using Die-Cutting for Custom Labels
Die-cutting offers numerous benefits for custom label and sticker manufacturing. To begin with, die-cutting labels create a unique look and can give your product a professional finish.
Some die-cut labels are so intricate they are almost like works of art. As such, a die-cut label will grab attention and enhance the overall aesthetic of your product.
Another advantage of die-cutting is its versatility with different materials. With modern technology, almost any shape imaginable can be created using dies. This gives your business endless possibilities when creating unique designs and logos for products or services.
Die-cut labels and stickers are also important for branding your product. Your product's branding is how consumers will recognize and remember your product, so having a unique and professional-looking label is essential. For this reason, die-cut stickers offer a precise and attractive solution.
Make Your Products Stand Out With Unique Die-Cut Labels
With its ability to create intricate and unique shapes, the use of die-cut technology to make your labels and stickers will make your products stand out. United Label should be your top priority if you are looking for reliable die-cutting services.
With our vast selection of dies, United Label has the perfect shape and design to bring your custom labels to life. Contact us today to get started on creating your own unique labels and stickers!