Just as there are seemingly infinite ways to create a brand (see our series on branding to learn how), there are a lot of ways to communicate your brand to potential customers. We've created a ton of resources in our blog that discuss how to show off your brand, whether you're selling vitamins, cosmetics, food, or almost anything else. In this article, we're going to discuss the difference between two methods of creating labels; that is, screen printing vs digital label production.
The differences between screen printing and digital labels
Screen printing and digital label printing are two different methods used to create labels, decals, and other printed materials. They have distinct processes, advantages, and limitations, and are appropriate for different applications.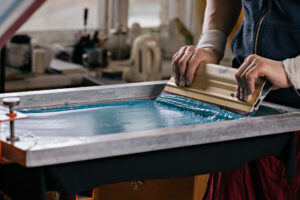 Screen Printing
Process: Screen printing, also known as silk screening, is a traditional printing method that involves creating a stencil (or screen) for each color in the design. Ink is then pushed through the screen onto the label material using a squeegee.
Color Options: Screen printing is typically limited to a set number of colors, as each color requires a separate stencil. This makes it suitable for designs with a small number of solid colors.
Quality: It offers high-quality and durable prints with vibrant colors and good opacity, making it ideal for outdoor or industrial applications.
Materials: Screen printing can be used on a wide range of materials, including paper, plastic, metal, fabric, and glass.
Setup Costs: Setting up screens and stencils can be costly and time-consuming, especially for small print runs. However, it becomes more cost-effective for larger quantities.
Customization: Customization is possible but is more labor-intensive and costly for small runs compared to digital printing.
Digital Labels
Process: Digital label printing is a modern, computer-controlled printing method that directly applies ink to the label material using inkjet or laser technology. It doesn't require screens or stencils.
Color Options: Digital printing allows for a full spectrum of colors, gradients, and photographic-quality images. It's excellent for complex and colorful designs.
Quality: It provides high-quality prints with sharp detail and excellent color accuracy. However, the durability of the print may not be as robust as screen printing, particularly for outdoor or industrial use.
Materials: Digital label printing is suitable for a wide variety of materials, including paper, vinyl, polyester, and more, depending on the specific printer and ink used.
Setup Costs: Setup costs are generally lower compared to screen printing because there are no screens or stencils to create. This makes it cost-effective for short runs and variable data printing.
Customization: Digital printing excels in customization, as each label can have different designs or data without incurring additional setup costs.
In summary, the choice between screen printing and digital label printing depends on your specific needs:
When To Choose Screen Printing or Digital Label Printing
As a company that does digital label printing, we here at United Label would love to simply tell you to use digital label printing for everything–but of course that's not the case.
In our experience, we find that screen printing is ideal for designs with a limited number of colors, outdoor or industrial applications, and large print runs where setup costs can be spread out.
On the other hand, digital label printing is best for full-color, complex designs, and customization. It offers quick turnaround times and is cost-effective. This is why we work so much with products–because companies can minimize their overhead on packaging and turn a better profit.
Reach Out To United Label For All Your Digital Label Printing Needs
As you can see, screenprinting and digital label printing are quite different, and have different industrial applications. If you're looking for labels for your products, then digital label printing is the way to go, as it offers greater flexibility, color options, and–perhaps most importantly–a better price point. Contact United Label today for a free quote on your next digital label printing project by using the contact form on this page, or calling 973.589.6500 directly.