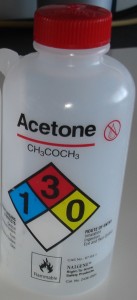 Are you storing any quantity of chemicals for your business? Or perhaps chemicals are your business. If this is the case, then you'll want to use our chemical labels for labels that will withhold under any condition. Our chemical labels are strong. If there is any spillage of your chemicals from their containers, our labels will hold up.
Chemical Labels For Any Purpose
Whether they are specific caution labels, "Flammable" labels, or labels that just indicate what the substance is, our labels will be definitive in their message. With a great shine and a great stick, our labels will last as long as the chemicals do. No one will ever forget what is what. Choose United Label for your Chemical Label needs and your chemicals, your employees, your customers, and you will be safe.